Do you need to know how long can hair dye sit out? Don't worry we will tell you, read on.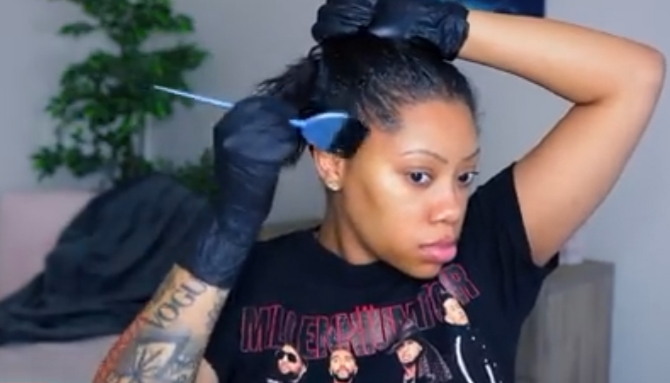 After you have mixed the hair dye, it lasts 30 minutes. Look this: from the time you mix the dye and peroxide until you finish applying it to your hair, you have 30 minutes.
For example, if you prepare the mixture at 11:30 am after half an hour, it will have no effect on your hair.
Therefore, you should throw it away.
Why does this happen?
The mixture you use to dye your hair is composed of peroxide, this substance reacts chemically when it comes in contact with oxygen.
Therefore, this reaction lasts 30 minutes whether you apply the mixture on your hair or not, the mixture lasts the same time.
Recommendations
We recommend sectioning your hair first and then preparing the mixture.
If you decide to prepare the mixture first and then section your hair, the mixture will already be reacting, and you will not have time to apply it on your hair.
Sectioning the hair needs time, and you need much more time if you do highlights with a cap.
Passing the strands of hair through the holes in the cap takes a long time.
So you should first prepare your hair for sectioning or to prepare it for the highlights, and then you can start preparing the mixture.
This way, you will be sure to have enough time to apply the mixture to your hair.
Tips to make the most of the half hour before applying the hair dye
Apply the mixture before the half hour

Press your hair and then apply the mixture

Divide the process into two parts

You can prepare half of the mixture before applying it to your hair, then prepare the other half of the mixture (works well for gray hair)

Prepare half of the mixture first and apply it to the root beds or graying roots.

Let it sit while you prepare the second half of the mixture

 After 20 minutes, apply the second mixture to the mid-lengths and ends

 Many kits come with a tool to apply the mixture, we do not recommend it

 It is faster to apply the mixture with a hair dye brush or with your hands (with gloves)

Prepare the mixture in a plastic container (glass and metal inhibit the peroxide effect).
In conclusion
You already know how long the dye mixture lasts before using any dye we recommend you to read carefully the instructions for use.
This post is for information purposes only, for best results we recommend you seek professional advice.
Did you like this post? Share it!